'MediEvil' - Announce Trailer
"Paths go this way, paths go that way..."
This article is about the remake of MediEvil. For the series and the original game, see MediEvil (series) and MediEvil respectively.
MediEvil is a remake of the original game for the PS4 released on October 25, 2019. It was announced December 8, 2017 at PlayStation Experience 2017.
Development
Sony announced a 4K remaster of MediEvil for the PS4 during the 2017 PlayStation Experience show, revealing scant details about the project stating "more details soon".
On October 25, 2018 on PlayStation Blogcast, the project was revealed to be a remake developed by Other Ocean Interactive rather than just a remaster, with a trailer due for release on Halloween.
MediEvil is being developed using Unreal Engine 4. The geometry from the original game is used to recreate the levels as faithfully as possible, while adjusting certain elements with technological advances in mind.[2]
Additional content
Digital Deluxe Edition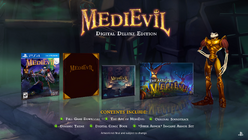 In addition to the game itself, this edition also includes the following:
Gallery
Renders
Videos
Trivia
This is the first standalone MediEvil game to be released on a home console other than the PlayStation.
Most of the voice clips in the 2017 Teaser Trailer are from MediEvil: Resurrection.
References
Community content is available under
CC-BY-SA
unless otherwise noted.