"
This little book being a thing that I recently found, a nostalgic look back on all my notes and reviews based on playing the game before it was finished and released.
"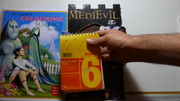 Transcript
Cover
Fri 9-1-98
12 Days (circled)
Need to outline
H.P. of weapon on a monster
Level map = routes
Coin system = buy weapons etc
More attacks
Monster attacks = orchestration
Learning curve = help gargoyles.
Distinctive pattern of play = clues.
65% action, 35% puzzles
Need to design the shop!!
New weapon effects
Q.A. testing
Look at map redesign
MediEvil Tues. Jan.
30th June without Time Device/Great Machine.
Big levels: Sleeping Village, Haunted Ruins, Pools of the Dead
Dragons Graveyard is lost?
Ant Caves
Asylum Grounds
↓
Pools of the Ancient Dead
Enchanted Earth
↓
MediEvil Meeting
3 Months!!
Too many boulders.
5 levels for the Disc.
No Scarecrow Fields.
Nina is gathering info for unfinished work.
Mike is helping James.
More of a plot depth to the game.
City of Madness
A.G. = Paul/Sam
A.C. = Matt/James
T.D. = Matt/James
??? =
G.G. = James/Matt
S.V. = Paul/Sam
P.G. = Derek
Z.L. = Derek
D.C. = Chris
C.H. = Chris
??? = Matt/James X
??? = Dan/Sam
The Great Machine
The Switch (|) has big clipping problems.
The skull door teleports need textures.
When teleporting there needs to be an effect or a camera track to suggest Dan is being sucked through pipes.
The conductor top needs textures.
Not too happy with the textures on the big skull at the start of the level.
The carriage on the train needs proper textures.
Dan can easily fall off the train.
The train carriage can merge with the train when the train stops moving.
It is hard to see if you have actually moved a level (as the camera is top down). Movable platform needs sorting (it is black at the moment).
Metal gauntlets that move conveyor belts need textures.
The big chain on the first lift needs re-texturing.
Big wooden wheels need re-texturing.
The animated chimneys need to be enlarged - they look too puny at the moment.
Boilers need to breathe out fire when active.
The warp zones are a bit displaced.
Dan is far too slippy!
Trainwheel texture needs to be alpha channel.
Do not like the fire that comes out of the mouth of the boy robot machine.
Box robot machine needs proper textures.
Edges of floor surfaces are a fookin nightmare!!!
Pounding up/down drums need textures
Improvements
Better Dan controls
Cut sequences
Secrets = mechanisms
Devices that must take effect on other levels
The Lake
The L shape mechanism needs to be redesigned as I do not like the current machine.
When Dan falls into the water (off a roadwalk)

Is it possible to have a water splash? Without one it looks like he is falling into space.

Should only be able to kill the barnacles when they open up.
If Dan dies by being pushed of a boardwalk by a jumping fish then he should not be replaced in the fish's path only to be knocked off again.
On my demo the warp zones are incorrect.
When a crystal machine is activated there should be a cut scene showing the machine coming to life - also can we show the whirlpool slowing down.
Like the crystal glow.
Barnacles need textures.
There does not appear to be a portcullis where there should be.
You cannot kill the barnacles!
Toadmen do not seem to protect themselves.
Lake ideas
Have to find the crystals to plug into the machines that stop the lake whirlpool.
Eyeball barnacles

If one of these eyes should see for longer than 2 seconds, it will shriek thus alerting the toadmen.

Turret barnacle

Once in its sights this barnacle will open up like a turret and fire away

Once alerted toadmen will pull themselves up from the ground in order to attack. Is this possible?
Toadmen will be associated with their designated barnacles.
Pumpkin Gorge
Moshybase * stem colour = create texture
Time Device
Negotiating the clockface platform; section is too easy, need to make this harder
Texture map on the huge clock puzzle needs reorienting - texture map on the door clock needs replacing.
Are the flying eyeballs going to fire electric bolts at Dan?
Do not like the rune key holder section before the rotation floor disc before the planet.
When you tell the time on the big clock there should be a sound effect (or a visual effect) to tell you you have activated 'something' - not a cut scene!
Cuckoo clock monsters need a lot of work.
Killing the eye balls appears to crash the game.
Electricity does not appear when the crystal is destroyed - no rune key.
Pools of the Ancient Dead
High jump potion
To reach the dragon's graveyard, Dan has to collect shields to give to the boatman.
A ??? undead knight controls the level - Collecting the shields weakens his power - if so desired the player can destroy the knight once all of the shields have been collected. This will lead to Dan getting the Dragon Dan potion.
The Ghost Ship
Can we have the sky moving to suggest the ship is travelling.
More onto The Ghost Ship
confusing gameplay
camera problems
Changes to Time Device + The Great Machine should just be based around alterations with new game controls. No new elements!
Zarok's lair = get feedback from the others incl. knight horse monster
Demo Disc
You can fall through the terrain on Cemetery Hill (the paths).
Are we going to have animated grass fringe on the cliff edges.
In the church I do not like the geometry of the columns on either side of the hall.
Imps
Throghout a level there are a big number of dead pyres - an imp runs through these areas on a pre set course setting fire to the pyres which when lit will impeed Dan's progress.
Monster moves / combat
Zombies
Shadow demons } Strategies
Imps
More substance? = level interaction in connection with other levels
More plot
More use of potions (invisible potion).
Channel of water - something floating at end of water - have to get to object.
Deforming ground.
Items spread out across levels that allow other sections to open up.
Potions
Dragon dan (defense raises/fire breath)
Serpent
Smart bomb
Shrink potion
Firefly target
Invisible (for a limited period monsters cannot see you)
Skeleton Key (can pass through one door only)
Levitate (Dan can float upward but is unable to move - only jump)
Hit point reveal (reveals enemies hit points every time they are hit)
Name reveal (enemies name appears on screen)
Body shield aura (protects Dan from being hurt)
Body shield aura 2 ( "" but also hurts enemies)
Various weapon power ups
Power-ups
???
Scarecrow Fields
Scarecrows should jump a lot?
Change hay carts (static) to hay stacks
Corn killer sprite (tail?) design
Scarecrow only killed with swords and not projectiles.
Potions
Turn doors transparent (Allows Dan to see through doors but not pass through)
Freeze enemies (Very limited freeze effect)
Free mechanisms (Same as above but on mechanical problems such as firing statues)
Longer jump (to reach far away areas)
Destroy demonic plant life
Community content is available under
CC-BY-SA
unless otherwise noted.